As the saying goes, local girl makes good. In Jennifer Bawden's case, make that very good.
The designer, formerly from Toronto, was back in town recently—a welcome relief, she says, from her hectic schedule in New York where she designs high style evening wear.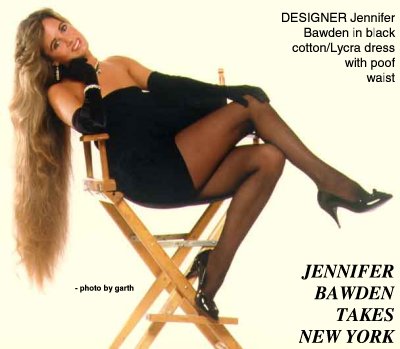 Not to mention all those parties. Bawden's press kit brims with clippings of her ambitious social life: There she is at a gala with Ivana Trump; at a dinner with President George Bush; in Town & Country magazine at the Bachelor Ball…
This is no ordinary press kit. Then again, her life is far from ordinary. The daughter of Calgary- based oilman Peter Bawden, she's attended Toronto's Branksome Hall. She then went on at the age of 17 to Neuchatel College in Switzerland where she toured the European pro ski circuit, winning the Italian freestyle championship. She even did stunt skiing for a movie.
After getting her B.A. from the University of Western Ontario, she pursued her dream of a fashion career at the Fashion Institute of Design and Merchandising in Los Angeles. Then came a short move to London, England, where she was an assistant at Frank Usher.
She then moved to New York and formed her own design company. There she was swept into the city's social scene, chairing one charity ball after another.
She was rewarded for her efforts by being named junior recipient of the prestigious Manhattan Award.
The parties paid off—in more ways than one. Bawden and her friends were seen—and photographed—in her dresses. Her socialite lifestyle helped start her business and it still helps her today. "I'm able to spot trends, to see what women are wearing. I know what they want."