NEW YORK TOASTS CALGARY GAL
Designer sold her car to finance move from UK.
By Bernice Huxtable
(Herald writer)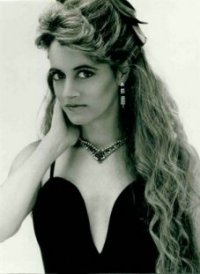 So what's it like to be dubbed the fashion world's newest rising star? To be photographed with U.S. President George Bush and Ivana Trump? Ask Jennifer Bawden, New York society's darling-est designer, the hottest name in town, a Calgary grown success working among the flings and arrows of outrageous fortune in New York's fashion world.
She sighs during a telephone interview and says, "I'm exhausted, I worked until 3 a.m."
Ed McMahon's Star Search in Hollywood just called and they want dresses for several of their shows. "Imagine the exposure. They usually announce the designers' names."
Giorgio's, one of the most exclusive shops on Rodeo Drive, is featuring her in a window next week. It's a dream come true. Bawden's become a social butterfly scurrying to every fancy shindig in town togged up in a sexy slip of a dress, the signature look of a Bawden collection.
It's a drop-dead look of success, judging from the November cover of Cosmopolitan, the December cover of New Woman and a coming cover for Elle, where her slinky velvet dresses with plunging necklines tantalize the senses.
"I am my customer," she says. "I design for women my age and older who can't afford a Scassi or a Blass. I move from young and trendy to sexy, sophisticated and elegant."
The daughter and eldest of eight children of Calgary oilman Peter Bawden, she's a product of Western Canada high school and Branksome Hall Private school in Toronto, graduating from the University of Western Ontario in London with her BA, then completing graduate studies at the Fashion Institute of Design and Merchandising at Los Angeles. Then it was off to the Canadian College in Neuchatel, Switzerland. Not only did she study there, but toured on the European professional ski circuit, placing first in the Italian freestyle championships and second in the Swiss championships.
Add on performing stunt skiing for a Sean Connery film and appearing in magazines and television commercials and you begin to get the picture that Jennifer Bawden is no ordinary soul.
After a year as assistant designer for Frank Usher Ltd., in London England, she sold her car to finance a move to New York to form her own design company.
Before long the press was nipping at her heels and it wasn't all about Bawden the designer. It was about a bright newcomer who not only designed but lent tireless support to charities. Her name began appearing as serving alongside the likes of designer Arnold Scassi, opera diva Beverly Sills and film star Mary Tyler Moore.
This year Bawden was junior recipient of the Manhattan Award honoring individuals who have made special contributions to the city's spirit, excellence and compassion.
Her press kit bulges with clippings from Town & Country, GoodLiving, Women's Wear Daily, Country Estate. She's pictured on the cover of Manhattan Magazine with president George Bush and dubbed a Bushie who designs gowns for the junior socialite set. She smiles from the pages of the New York Times with Ivana Trump, and she can wear her own signature looks.
There have been times when she's wanted to give up—particularly after 14 hours of non-stop work..
"One time I'm ready to pack it in, the next day I get a magazine cover or a Fifth Avenue window and I stand in front of the glass late at night and look at my name in five-inch letters and I pull myself out of the quicksand and say, 'I've made it."